Let's go and get some stuff!

[Drugstores] There are two drugstores (Drugstore MORI and DRUG ELEVEN) near Yakushima Airport in Koseda. Drugstore MORI is located 500 meters (a 7-minute walk), and DRUG ELEVEN is about 850 meters (a 10-minute walk) north of the airport. They sell over-the-counter medicines for minor problems. Both shops sell not only medical supplies but also food products, daily necessities, cosmetics, and more at a discount price. Drug ELEVEN has a 100-yen shop corner and Drugstore MORI, the biggest store on Yakushima, is popular for its wide variety of goods including alcohol and foodstuffs.
[Discount store] SOMES, a retail store, is located about 650 meters (a 9- minute walk) north of airport. It has many daily necessities, appliances, do-it-yourself goods, gardening tools, outdoor equipment, alcohol, food products, pet supply, fishing tackles, clothes, and etc, at low prices.
*They are located in the Koseda area. Please see the Yakushima airport area guide map below.
↓
[
Supermarkets] There are three supermarkets in Miyanoura (Life Center Yakuden, A- coop, and Wai-wai Land). In addition, there are two more A-coop supermarkets, one in Anbo, and one in Onoaida.
・Life Center Yakuden …Life Center Yakuden is the nearest supermarket from Miyanoura Port (450 meters from the port: a 6- minute walk). During summer season, among all supermarkets on Yakushima, it is the last one to stay open until 10 p.m. It is a full-line supermarket with wide range of products, kitchen utensils, outdoor equipment, clothes, shoes, fishing tackles, pet supply, DIY goods, gardening tools, appliances, etc. Some people buy "Bento" lunch here and take a boat to Kagoshima.
・A-coop …A-coop is Japan Agricultural Cooperative (JA) supermarkets on Yakushima (in Miyanoura, Anbo, and Onoaida). Miyanoura A-coop is located on the road going to Shiratani Unsuikyo Ravine, 400 meters from Miyanoura Ohashi Bridge. It supplies not only fresh food and prepared dishes but also clothing and etc. It is a good place to supply some foods before going to Shiratani Unsuikyo Ravine. Shushi is also very good here. Anbo A-coop is the nearest supermarket to Anbo Port. Onoaida A-coop is the only supermarket around in southern part of Yakushima.
・Wai Wai Land …Wai Wai Land is only a 5 minutes' drive (about 3 km) from Miyanoura Port and is located in front of the Tokushu-kai Hospital. It is a total supermarket with100-yen shop corner. Next to Wai Wai Land, there's a bento shop, "Hotto Motto", where you can buy a variety of bento take-out meal. It is open from 7 a.m. to 9 p.m.
[Grocery stores] There are community-based small family grocery stores in most of the villages on Yakushima. They are indispensable to the lives of villagers. In Anbo there are two grocery stores, Shiiba Store and Tanaka Seika.
・Tanaka Seika is a greengrocer with a garden center and bakery store.
・Shiiba Store is located near the intersection of the road going to Yakusugi Land. It has a variety of grocery good, freshly baked bread and also rain gear.
*Bento lunch boxes are available at both stores.
[Local Convenience Stores] Yakushima's convenience stores are open usually until 10 p.m. There are two local convenience stores on Yakushima, M MART Aiko in Koseda and M MART Higo in Miyanoura. (Open about 7, 8 a.m. – 9,10 p.m.)
・M MART Aiko in Koseda is located about 2.5 kilometers north of the airport (3 minutes by car) and is open from 7 a.m. to 9 p.m.
・M MART Higo in Miyanoura is located in front of Yakushima High School and is open from 8 a.m. to 10 p.m.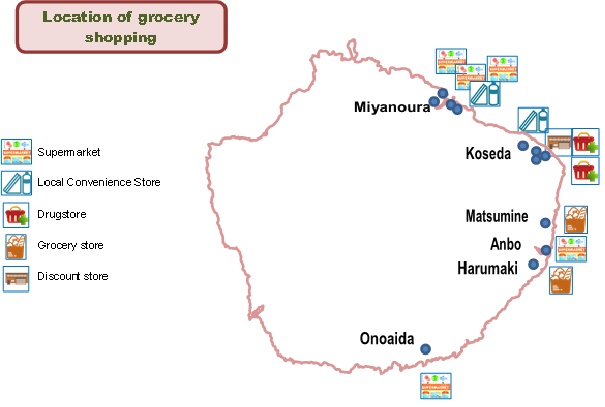 – Please Bring Your Own Shopping Bag to the Store –
Many supermarkets/shops on Yakushima have encouraged the use of reusable shopping bags to reduce the amount of plastic waste. If you don't have one, there will be a charge for plastic bags.
On July 2020, charging for plastic shopping bags will become mandatory in Japan.