Mountain Routes and Trails-代表的なコース
Mountain Routes and Trails
Yakushima has many hiking and climbing routes and trails. Before attempting one, please check the level of experience required to successfully traverse it safely. There are all levels of routes and trails to choose from. Picking the right one can give you a safe and an enjoyable experience to remember Yakushima by. Advanced level mountain routes are not for the novice.
Advanced level mountain climbing routes: Nagata Trail (Nagata Hodo), Onoaida Trail (Onoaida Hodo), Yudomari Trail (Yudomari Hodo), and Kurio Trail (Hanayama Hodo and Kurio Hodo). You need advanced level mountain climbing experience and equipment.
Some routes and trails are listed below.
*The time required for each course—excluding resting time—is based on the time of climbers with 25-30 kg loads in the summer season. You may require more additional time than these display time.
Mt. Miyanoura and Mt. Nagata
◆Nagata Mountain Trail (Advanced Level)
◆Miyanoura Route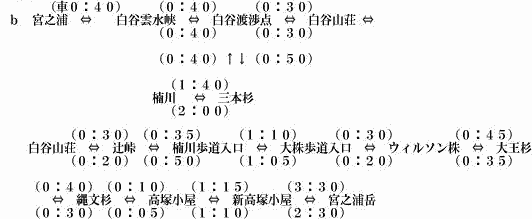 ◆Kusugawa Route

◆Anbo Route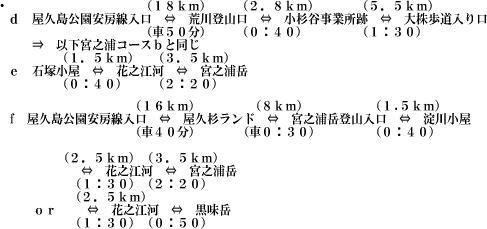 ◆Onoaida Mountain Trail (Advanced Level)

◆Yudomari Mountain Trail (Advanced Level)

◆Kurio Mountain Trail (Advanced Level)

Mt. Aiko
Mt. Mocchomu